Dynamic Stabilization System
Dynamic Stabilization System: Definition
Dynamic Stabilization System (DSS) anchors devices to the spine with pedicle screws to achieve stabilization. This procedure is distinct from Interlaminar Decompression (ILD), which uses no pedicle screws. The older generation of these devices used stiff rods to achieve stability, but the newer generation uses much more flexible material in the rods to allow for motion.
Dynamic Stabilization System: Indications
Dynamic Stabilization System: Device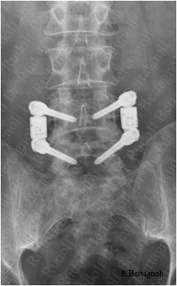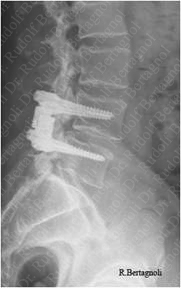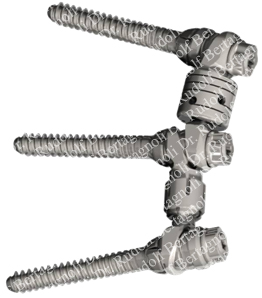 DSS with motion coupler   |     DSS with fusion coupler    |   DSS w/ fusion & motion                                                                                                        couplers
Dynamic Stabilization System: Surgery
Dynamic Stabilization System uses special rods and screws to stabilize the spine, sometimes joining an artificial disc replacement (ADR) surgery and a 360 fusion segment. DSS is very unique and affective in this ability to join motion and fused levels. It is performed in the lumbar spine, posteriorly, thus avoiding the riskier anterior approach of fusion and ADR surgeries. In the early days of modern spine surgery Dynamic Stabilization System was used exclusively in conjunction with fusion. The lower couples in the photo shows the configuration, when used with fusion.
Dynamic Stabilization System: Surgery Risks
All surgery carries risks from anesthesia, blood clots and infections. If complications from these risks arise, they most often can be successfully treated. The physical condition of the patient (such as obesity and diabetes) can also add risk to surgery.
Dynamic Stabilization System: Surgery Long-Term Outlook
The appropriate surgical procedure properly executed will provide long-term relief for the degenerated conditions treated. However, if the condition was allowed to continue too long and the nerves have become damaged, there may be some remaining pain or numbness or no improvement. Problems in other areas of the spine may appear at a later time.
Dynamic Stabilization System